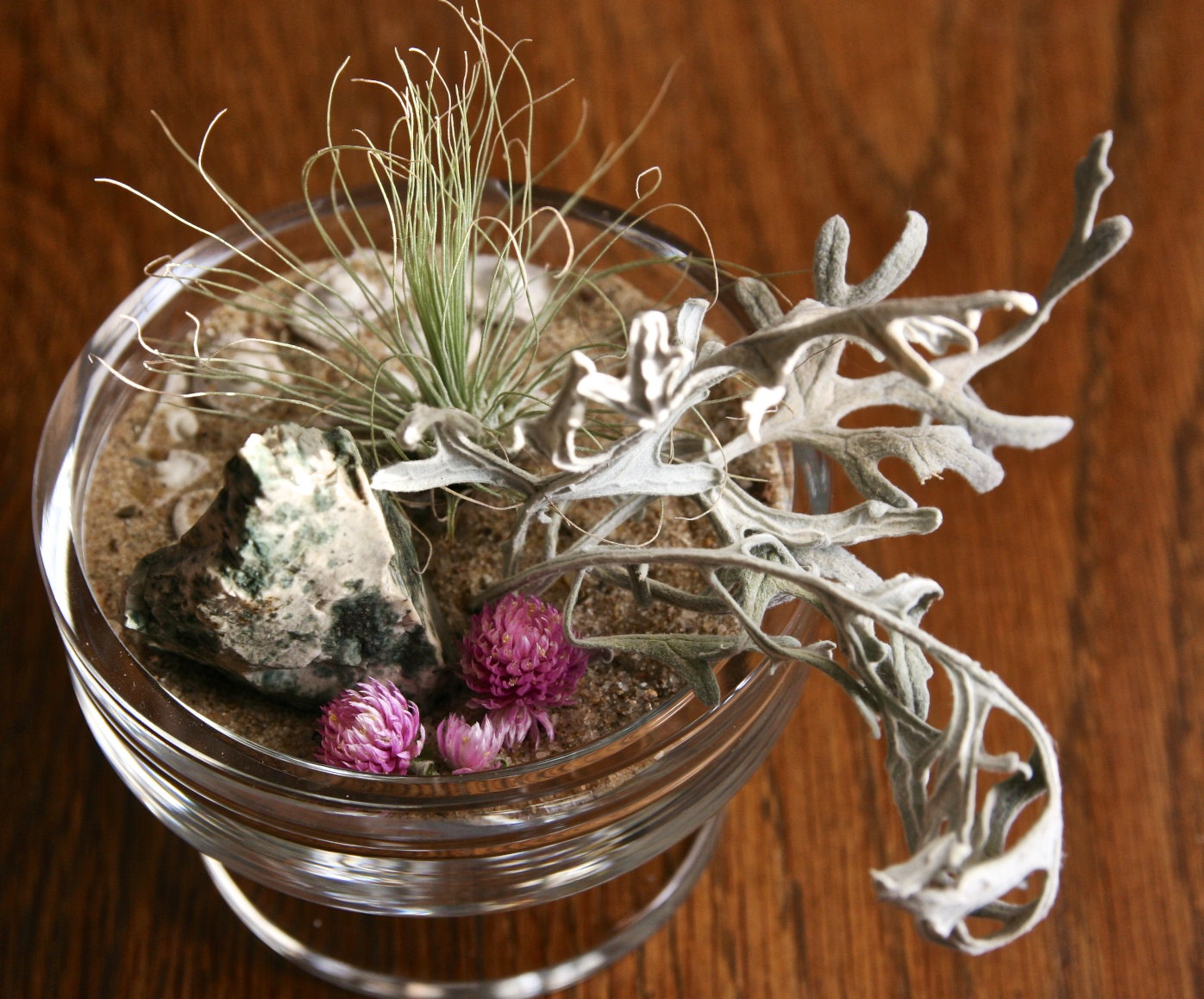 Terrarium Shop
sold out
Pink and grey one of a kind garden dish with air plant by Flower Power Nation
Another exclusive offering through Flower Power Nation. I have taken the time to carefully incorporate some gorgeous preserved and raw materials and create a landscape where color, texture and imagination can take flight!

Modern shape of this vintage glass candy display dish becomes the pedestal for the rest of the elements.
Dimensions:
Height: 3.5"
Width diameter: 5"

Detailed description of materials:
Beautiful Serpentine rock in the raw -typically in mythical uses it is a defense rock, believed to eliminate negative energy and if placed in the corners of an abode that it will restore piece and harmony. Please, convo me if you want more information on this mineral and its properties.
Fine grain natural colored sand
Preserved plants- Dusty Miller and pink clover flowers
Sea urchin fragment tiles
Living element and a splash of green is the lovely and easy to care for little air plant Fuchsii V Gracilis

The terrarium comes in a assembly kit with carefully packaged materials and the pictures are to serve you as guideline along with the assembly and care instructions.

My hope in creating and offering the series of "One of a kind terrariums" is that you approach each one with a sense of adventure, and experiment along the way changing elements and adding over time making this a display for you to nurture your creativity and love for nature. I believe that we love, learn, and grow through uninhibited play, just like kids.

All the terrariums come with assembly and care instructions, and as usual please be advised that this is not a product suitable for a child to assemble.