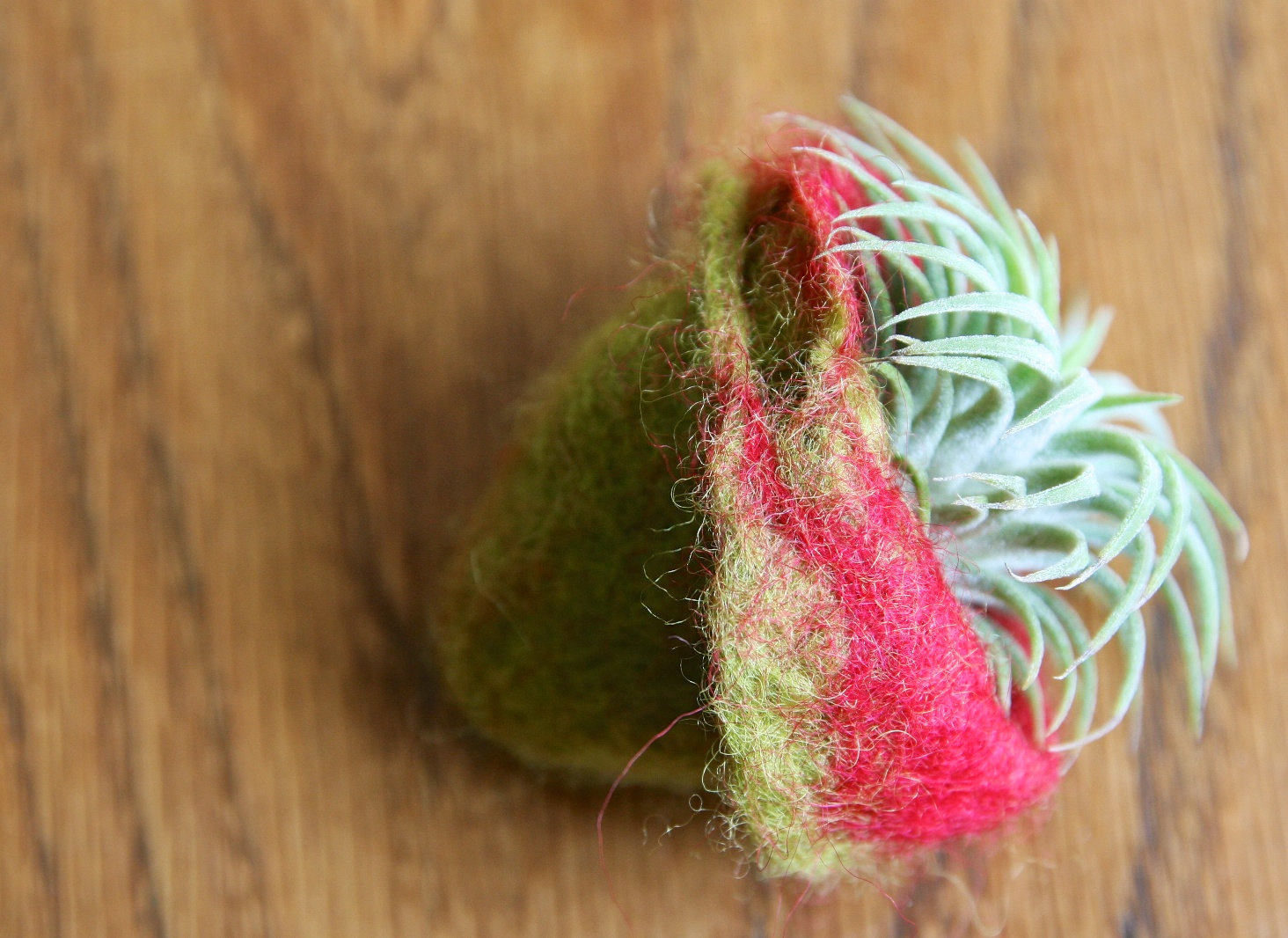 Imported Products
Handmade merino wool cocoon and air plant
Introducing our handmade, one of a kind merino wool felt cocoons created exclusively for our selection of air plants at Flower Power Nation.

Here you have a single Fire of Tinco air plant pre-bloom tucked into a cuddly odd felted cocoon in green with red interior and red accents, this cocoon is an ideal environment for your air plant specimen, letting it get enough day light, keeping moisture levels under control, and providing a cheery home for your plant no matter where you decide to display it!
The cocoons make for a stunning grouping, by themselves, or as wedding or party favors- this is an incredible way to stay eco conscious, give something green and unique all at a very reasonable price.

Each cocoon is handmade and hand shaped by me from all natural merino wool raw fibers that after felting become these organic shapes- the beauty in creating these is letting each shape evolve from the process without forcing and constraining it, they are pliable, soft and organic. This bright green and red combo will eventually mimic the colors of the bloom that the air plant Fire of Tinco will produce.
Because of the flexible nature of the cocoon here is approximate dimensions:
Height:2.5"
Width: 2.5"
this is a cone free hand shaped form, completely reversible if desired

Care instructions are included with your purchase, and if you have any specific questions do not hesitate to e-mail us!

If you are interested in purchasing just cocoons, please indicate on your order, otherwise your cocoon will come with the "air" head listed in this case Fire of Tinco.

Feel free to e-mail me with a color scheme you prefer, or take a minute and check out the rest of the offerings in our shop!

Flower power to the people!